Summer of Indie Kicks Off With Featured Author Vickie Johnstone
Summer of Indie starts today with our first featured author Vickie Johnstone. Vickie Johnstone is an indie author who chose to showcase her talent as a writer by discussing with us her children's series and her poetry.
We asked Vickie about herself, her interests, and her work, and here's what she had to say:
Hi, I live in London and have a thing about fluffy cats, or rather fluffies in general. I have spent the last 16-odd years working as a sub-editor on business magazines, enjoying the delights of such things as insurance, computers, mining, money (though not how to make it, alas) and the environment. My favourite things include reading, writing, films, the sea, taking photos, art, music, animals, nature, dancing like an eejit, travelling, birdsong, custard tarts, baileys, sleeping (if it was an Olympic sport, I'd be a contender) and gallons of tea. I have written stories and poems since I was a kid, but only started publishing my first books in 2011. During that year, I wrote two books and a nanowrimo, so I think this was my busiest year - inspired by such writing groups on FB as Book Junkies! My dream would be to write for a living, dwell by the sea and never run out of Milky Bar chocolate.
Happy reading and writing :)

Here are some of author Vickie Johnstone's works that she wished to share with readers: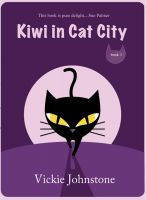 Book 1 in Kiwi series.
Amy and James live in a house with their parents and their little black cat, Kiwi. One dark night, Amy cannot sleep and she looks out of the window into the garden to see Kiwi transfixed by the moon, which has taken on a weird, glowing shape like a cat's claw. Waking her brother, Amy suggests they follow Kiwi that night to see where she goes... whether it involves a hunt for mice or something else. Little do they know that, with a flick of her tail, Kiwi is going to lead them on the adventure of their lives to a land they never knew existed in their wildest dreams. In the blue-lit world of Cat City, they gain an understanding of what it's really like to be a cat and walk on four paws. There they get to help Inspector Furrball solve the mystery of the missing catizens and find out what happened to Madame Purrfect.
http://www.smashwords.com/books/view/55227
http://www.amazon.com/dp/B004YKSZMM
Kiwi and the Missing Magic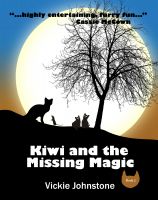 In the second book of the Kiwi series, James and Amy embark on another adventure with their little black cat, which will take them to the Land of Giant Mice in search of the missing Magic. The children return to Cat City to help their friends from the first book and meet some new characters along the way, including the Worry Bee, Whiskers and Moggie. Can James and Amy help Kiwi save the day? More importantly, will James' pet hamster find his true calling in life?
Kiwi and the Living Nightmare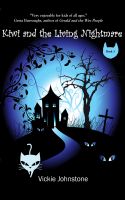 In book 3 of the Kiwi Series, Amy, James and Kiwi embark on their spookiest adventure yet - on Halloween. What begins with an eerie dream about a three-legged cat will take the budding detectives on a quest to find an old house in the middle of the woods, meeting some familiar characters and some perky squirrels along the way. Little do they know that there awaits an angry, restless ghost that will do anything to stop them leaving. Meanwhile, Inspector Furrball and Siam discover the human world, and some surprising news.
http://www.smashwords.com/books/view/95345
http://www.amazon.com/dp/B005UF4V6E

Kaleidoscope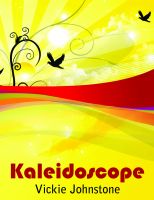 A collection of 119 poems, arranged under the following chapters: figures; nature; abstracts; love; haiku; darkwave; childhood; and creatures.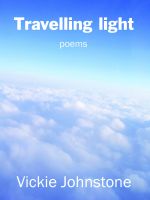 Travelling Light - a free preview book of poems
http://www.smashwords.com/books/view/61290
http://www.amazon.co.uk/dp/B0055U9PEW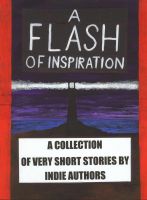 A Flash of Inspiration - A collection of very short stories by indie authors (anthology)
Her books are also at listed at
http://publishmybook.ie/
You can find Vickie Johnstone online at the following places:
http://www.facebook.com/AuthorVickieJohnstone
http://www.goodreads.com/author/show/4788773.Vickie_Johnstone
https://twitter.com/#!/vickiejohnstone
http://vickiejohnstone.blogspot.com