Our next guest is author Staci Stallings, a "stay-at-home mom with three kids and a writing addiction." Staci has had 5 books on the Amazon Best Seller's lists, and is here to talk about two of her books: To Protect & Serve, and Deep in the Heart.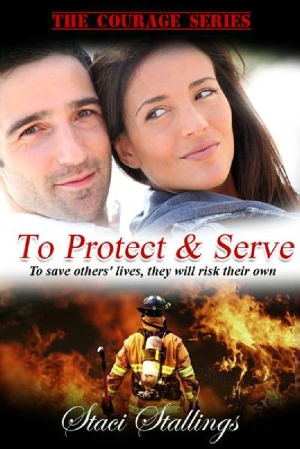 To save others' lives, they will risk their own...
Houston firefighter, Jeff Taylor is a fireman's fireman. He's not afraid of anything, and no situation is too dangerous to keep him on the sideline if lives are at stake.

Lisa Matheson runs a semi-successful ad agency that's on the brink of falling apart. Her employees are incompetent and her schedule has become exhausting. When she takes on a client with a brilliant idea for a big conference, she thinks that maybe, finally this is her lucky break. However, the fire station wasn't what she had in mind for finding conference speakers.
When she falls for a handsome but shy firefighter, it's possible that life might just be going her way for a change. The only problem is she can't control Jeff and the death wish he seems to have...
A #1 Amazon Religious Romance Best Seller: Clinging to her last shred of fuel and hope, Maggie Montgomery arrives at the mansion of Texas billionaire Conrad Ayers. Just out of college and all alone in the world, she has one shot left to save her life from an abyss of poverty and hopelessness. However, Maggie's whole world is about to be up-ended by two way-over-scheduled children and one incredibly handsome hired hand. As she struggles to fit into a world she wasn't made for, Maggie wonders if she can ever learn to become a perfect version of herself so she can keep the job. Keith Ayers despises his life. As the son of Texas billionaire Conrad Ayers and the fiancé to a Senator from Texas' daughter, his life looks great on the outside. But inside, he is dying. He longs to manage and train his father's racehorses, however, everyone else thinks that is beneath him. The world expects him to get into industry and build on his father's success. Suffocating under the constrictions of his life, he meets Maggie who begins to teach him that wealth and power are not everything in this life. Can Keith defy the two most powerful men in Texas to follow his heart?
You can find author Staci Stallings online at:

http://ebookromancestories.com

Facebook: https://www.facebook.com/pages/Spirit-Light-Author-Staci-Stallings/266593276699576

Their Blog: http://spiritlightbooks.wordpress.com

Amazon Author Page: http://www.amazon.com/Staci-Stallings/e/B005IDM6IS/ref=ntt_athr_dp_pel_1