Summer of Indie's next guest author is sometimes called "the female version of Stephen King". Today, we welcomed supernatural suspense author Vanessa Morgan to talk with us about her black comedy and thriller screenplay, A Good Man, which fans of Dexter or American Psycho
may to love.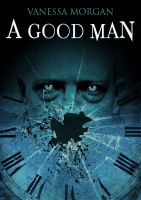 Louis Caron is a good man - vegetarian, he feeds the homeless, takes care of animals and is concerned with the ecological future of the planet. But his altruism has a sinister edge - he's a vampire - and local inspector Taglioni is becoming increasingly suspicious. Louis' attempt to escape the police takes him on a journey into his own private hell where he is not only forced to confront his worst fears, but also to destroy the lives of those he cares about most.
(also available in French as Un homme bien)
Author and screenwriter Vanessa Morgan has published two books of supernatural suspense, Drowned Sorrow and The Strangers Outside, and one screenplay, A Good Man. All of her work has either been turned into a film or is in preproduction. Vanessa is also the creator of the web comic Avalon, a cute cartoon series about her cat. She lives in Belgium where she is at work on seven new book and movie projects.
You can find author Vanessa Morgan online at: