Zombie lovers will be interested in Summer of Indie's latest guest author, Bella Street. Bella's novel The Z Word, Book One of Apocalypse Babes, blends fantasy, science-fiction and romance, and is set in the 1980's.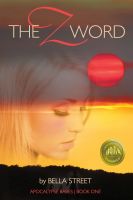 Book One of Apocalypse Babes, The Z Word, follows Seffy Carter and her longtime friends Gareth, Addison and Lani. The four besties share a past dysfunctional and dark enough to keep them bound together under do-over identities. But like off-brand velour, rends develop in their relationships from the flesh-eating pressures of ending up in 1980, in a Montana desert, surrounded by zombies wearing dated disco duds.
Summer of Indie asked Bella Street what got her started writing. She responded that "living so close to Nashville provoked her to take up fiddle lessons. However, until her tunes no longer sound like amorous alley cats, she writes romance with a touch of weird.
Some interesting facts about Bella Street are:
She likes weird romance, mythology and she plays the fiddle.
Her favorite directors are Wes Anderson, Joss Whedon, and M Night Shyalaman.
And her favorite TV shows are: Buffy, Firely, Justified, and 24.
You can find author Bella Street online at: