Fans of high fantasy, or action and adventure novels will want to check out Mahinder's Grand Tournament, book one of The Jade Blade Legacy.

Summer of Indie talked with author Tom Black,

who gave us a tour of the land of Prejdu'ha.
Mahinder's Grand Tournament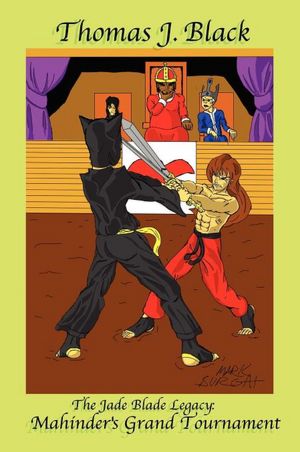 Mahinder's Grand Tournament is a fantasy novel that introduces us to the land of Prejdu'ha. It is a tale of rebelion, competition, treachery, and overcoming a cultural stigmatism based entirely on
predeterminism. It focuses primarily on two sides of the conflict for the land simply known as The Kingdom of Jade.
One side of the conflict is Prince Mahinder: son of Ashok.
While making an alliance with a representative of the ruling clan of a highlordship up north, he gets the idea to resolve this conflict once and for all with a tournament. The winner of this grand tournament shall inherit the throne, and become the new ruler of The Kingdom of Jade. The other side of the conflict is off in the mountains where the rebellion against Mahinder is headquartered.
Specifically, it centers around Prince Huang: son of Liu, the true ruler of The Kingdom of Jade, and a masked individual simply known as Jadeite. They, along with people from neighboring lands enter the tournament in hopes of winning the land back, and putting an end to Mahinder's reign once and for all.

The book is available at Amazon in both paperback and as an E-book.


http://www.amazon.com/Mahinders-Grand-Tournament-Blade-Legacy/dp/1432789554/ref=sr_1_1?s=books&ie=UTF8&qid=1340217906&sr=1-1&keywords=Mahinder%27s+Grand+Tournament


It can also be found at Barnes & Noble.


http://www.barnesandnoble.com/w/mahinders-grand-tournament-thomas-j-black/1110202466


And of course, it's available at Outskirts Press' bookstore.


http://www.outskirtspress.com/bookstore/9781432789558.html
We asked author Tom Black to briefly tell us about himself, and where we can get more information about his upcoming books in The Jade Blade Legacy:

"I'm an author straight out of Overland Park, Kansas. I have found the fantasy genre, and concepts like sourcery, battle, and creating things to be very fascinating. I'm blind in my right eye, but I have never let it stop me before. Fed up with two or three years worth of rejections from the literary agents and the mainstream publishers (the "for-real publishers" my friends always call them), I turned to the likes of Outskirts Press: an indi-publisher that puts out some very high quality paper backs as well as E-books.

News regarding Book 1, as well as news regarding the other books currently in progress can be found at my facebook page.


http://www.facebook.com/pages/The-Jade-Blade-Legacy-series/204419249647325
"