Summer of Indie's latest guest author is Emeka O. Godwin, a Pastor with the Redeemed Christian Church in Worcester Massachusetts. Although Emeka's book tells the tale of a pastor,

Diary of An Angry Pastor

is a fictional story. Interestingly, Emeka O. Godwin told Summer of Indie that a significant challenge while writing this book was

"the fine line I had to walk as a Pastor to keep this book clean while keeping it real."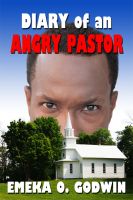 When you learn that one of your prominent deacons is having series of affairs,
When you have a gay activist threatening to stage a protest in front of your church,
When your richest parishioner decides to stop paying his tithe to your church,
And when a fight breaks out in your church and shots are fired…
Naturally, you become an angry pastor.
Diary of an Angry Pastor is a humorous story of a pastor who wanted to transform the little black church he inherited from his father into a multi-racial, mega church. After so many challenges, this pastor realizes that leading a church was not going to be as easy as he had envisioned.
http://www.amazon.com/dp/B0082T989K