Summer of Indie spoke with author Pat Ritter, whose first book Closing The Gap found success in helping parents improve communications with their teenager. Currently, Pat is writing his eleventh novel. Summer of Indie spoke with author Pat Ritter today about one of his recent books, The Drover.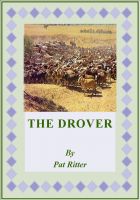 Droving in outback Queensland was a roaring trade in the late 1940's and 50's. Australia lived off the sheep's back with wool being one pound sterling for one pound of wool. Everyone had money.

Sheep and cattle needed to be taken from place to place. It was common to see at least six droving camps taking sheep or cattle across the outback of south-west Queensland from property to property.

This book is about the life of Harry Williams, who wanted to be a drover, the same as his father and grandfather before him.


At aged ten years he left school and commenced work. By thirteen years he had his own droving plant. By twenty-one he was a fully pledged drover in his own right.

At times he overcome many obstacles in his path. One epic trip he was Boss Drover to take 500 bullocks from Bulloo Downs in South West Queensland to Clifton Hills in South Australia, a journey to take twelve months.

He was the last of the ole drovers. A huge part in Australian history.
Summer of Indie asked Pat Ritter why he started writing. His response was: "I love to write. Daily I write something.
My life goal is to write, publish and sell my books."
Pat Ritter is an Australian author. who served as a police officer for twenty years in Queensland Police Service, fifteen years as a detective.

He established Crimestoppers for Queensland Police.
He retired when his wife of thirty-one years passed away from cancer.
After his retirement from police, he worked as an alcohol and drug counselor for Queensland Health.
You can find author Pat Ritter online at: