Today Summer of Indie spoke with author Jessica Dragon Cheramie about her young-adult, urban fantasy book Secrets of the Truth,
which is the first book in the Meridienne Drake series
Secrets of the Truth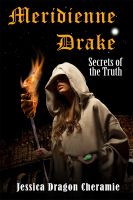 Meridienne Drake thought she had it all figured out, but her parents had other plans for her. Thrown on a plane to Portland, Oregon to spend the summer with family she never knew existed, Meridienne realizes she didn't know the people who raised her at all. More than that, strange things are beginning to happen to her.
Meridienne wants to be anything other than strange especially when her summer begins to take a turn for the better because of Will, the mysterious new boy. But the strange and unusual just keep occurring until she discovers an even bigger secret. Magic. Her fourteenth birthday reveals secrets and realities that Meridienne had only dreamed about, literally. Will Meridienne accept this secret life and face what comes with that? Or, is all this heat too much for her?
"Secrets of the truth. It felt like my entire life was suddenly full of secrets."
After hearing about Secrets of the Truth, we asked author Jessica Dragon Cheramie to tell us more about herself:
"I'm the girl you see singing at the top of her lungs in her car. I'm usually drinking coffee or wine depending on the time of day, holding my knitting needles while watching Saturday flag football, dancing in the middle of the dance floor or room, if no actual dance floor, and reading in my hammock on beautiful, sunny days. I have this crazy, mad urge to get the mini movies playing in my head on paper in the middle of the night and live on a Vampire's schedule when writing a book. I live in a world with my Prince Charming and a furry, ferocious dragon, also known as Brie(my 8lb Shih Tzu)."
And of course, we had to ask what it was like having the last name Dragon growing up.
Jessica responded: "In grammar school, I was nicknamed, Fire-Breathing Dragon because I caught a boy older than me picking on my little brother and punched him in the jaw. In high school, I was nicknamed, Puff, because teachers would stumble on my last name on roll call (How do you stumble on that?), and I would always say Dragon, like Puff the Magic Dragon."
You can find author Jessica Dragon Cheramie online at: